Fiction: URBANIA, A CITY TRYPTICH (THE NETHERLANDS)
Non-fiction: THE NEW COUNTRY (SWEDEN)
URBANIA, A CITY TRYPTICH
PRIX EUROPA IRIS INTERCULTURAL TELEVISION PROGRAMME OF THE YEAR 2000 TV -NON-FICTION
Original title: Urnabia, een stadstryptiek
Broadcast by: Nederlandse Programma Stichting, NPS, the Netherlands
Directors: Dirk Kagenaar, Petra Maartense, Marcel Ouddeken
Editor-in-chief: Frans Jennekens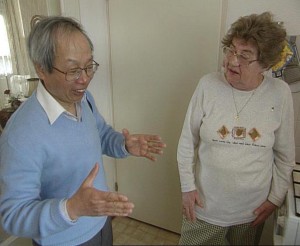 The 'Urbania' series is meant to be a search into the heart of a city. By portraying three characters, usually three outspoken people who tell their personal stories, the programme tries to paint a picture of modern multicultural city life in one of Holland's four major cities. In each episode, one of the people portrayed is always a foreigner, but colour, race or ethnic origin is not an issue in 'Urbania'. Instead, the series focuses on the unique lives of those portrayed. By doing so, it hopes to counterbalance ethnic minorities being stereotyped. In this episode we meet a former criminal who now works out with urban youngsters to keep them off the streets. A Vietnamese professor who is trying to build a new life in a city where he is a 'nobody'. And a handicapped woman who finds happiness in both painting and smoking a joint.
Jury Laudatio:
"a programme with a simple and ingenious format; By focusing on the unique and individual stories of everyday people "Urbania" succeeds in combating stereotypes and prejudices about people from different ethnic background"
PRIX EUROPA IRIS MULTICULTURAL TELEVISION PROGRAMME OF THE YEAR 2000 TV -FICTION
THE NEW COUNTRY
Broadcast by: Sveriges television, SVT, Sweden
Authors: Peter Birro, Lukas Moodysson
Director: Geir Hansteen Jörgensen
Camera: Marek Wieser
Producer:Gunnar Carlsson, Göta Film for SVT Drama Göteborg
Co-produced by: DR, NRK, YLE, RUV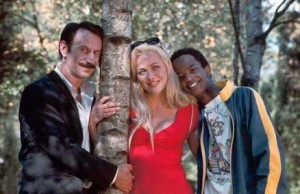 'The New Country' is a road movie about a summertime journey around Sweden by two refugees threatened with deportation. In the movie, Ali, a 15-year-old Somali, meets Massoud, a 40-year-old Iranian, at a refugee centre in Scania a southern province of Sweden. With the threat of deportation hanging over them, they decide to take their fates into their own hands, and together they embark on a fantastic journey around summertime Sweden. Amazed, they travel around their new country, where nothing is as it seems. On their travels, they meet Louise, a former Miss Sweden, who feels as much of an outsider as Ali and Massoud, and who also shares their longing for a different life.
Jury Laudatio:
"a daring and innovative drama, full of humorous insights and revealing surprises"
PRIX EUROA IRIS 2000 TV NON FICTION SPECIAL COMMENDATION 
ME BOSS, YOU SNEAKER 
Original title: Ich Chef, Du Turnschuh
Broadcast by:Zweites Deutsches Fernsehen (ZDF), Germany
Author/director: Hussi Kutlucan
Camera: Lars Harthel
Producer: Claudia Tronnier, Margarita Woskanjan Filmproduktion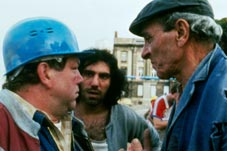 The odyssey of Armenian asylum seeker Dudie starts on a container ship in the port of Hamburg. The ship serves as a starting point for refugees from all over the world. Here, their fight for survival in Germany starts, and cultural differences cause clashes. Dudie's girlfriend, Nanie, can no longer bear the tense atmosphere and hopeless situation on board and agrees to an arranged marriage with a German electrician. Dudie goes to Berlin where three foreign men put him up in their one-room flat and find him a badly-paid job at a big construction site, near the Reichstag. There's a certain hierarchy among the various foreigners working at the site. The German boss rants all the time and the completely integrated Turkish workers loudly exclaim "foreigners out". The construction site sometimes seems like a madhouse.
Jury Laudatio 2000:
"With his tragic-comedy approach and his "distorting mirror", Hussi Kutlucan's film reflects, in a brave and brilliant way, the contemporary multicultural society"