SOUND OF TORTURE (SWITZERLAND)
PRIX EUROPA IRIS INTERCULTURAL TELEVISION PROGRAMME OF THE YEAR 2014 TV NON-FICTION
Author & Director: Keren Shayo
Produced by: Trabelsi Productions
Coproduced by: First Hand Films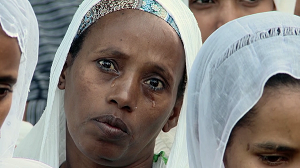 Live calls from the torture camps in Sinai: since Europe closed its borders in 2006, thousands of Eritrean refugees flee their military dictator-ruled country north to Israel, their gate to the west, crossing the Sinai desert. There, many are kidnapped by Bedouins and taken to one of the hidden camps. The film intimately follows Meron Estefanos, an Eritrean journalist-activist living in Sweden since many years, running a popular online radio program, publishing the stories of these camps while recording their inmates' pleas for help. We are with Meron when she searches for Timinit, a girl of 20 years who arrived at the Israeli border but from there is never seen again. And we follow the story of a man who desperately tries to free his wife, who gives birth to their child in captivity. When Eritrea gained independence in 1993, it became a military dictatorship. Military service is obligatory for everyone; women are exempted only when pregnant. Any critic or opponent of the regime faces immediate arrest. Around 3,000 Eritreans flee their country every month, despite a "shoot-to-kill" policy on the borders. In the last decade, more than 300,000 Eritreans have fled their homeland, also to Europe. Sound of Torture gives a face to those nobody cares about, touching political, cultural, and geographical matters.

JURY LAUDATIO:
The winner in this category was for the majority of the jury an absolut eyeopener. This film is an amazing piece of work about a totally ignored problem in the world of today. It is most daring visually by its often revealing camerawork and maybe even morse intense by using the sound of peoples voices. Extremely powerful and breathtaking scenes totally grasp the viewer.
A heroic portrait of a remarkable and brave young woman who on her own struggles for the fate of a group of people who are captured in horror while seeking safety in another  country. The protagonist shows that the courage and engagement of one person alone can change the world.