FOOTBALL UNDER COVER  (GERMANY)
PRIX EUROPA IRIS INTERCULTURAL TELEVISION PROGRAMME OF THE YEAR 2009 TV NON-FICTION
Orginal title: Anstoss in Teheran
Authors: Ayat Najafi, Marlene Assmann
Directors: Ayat Najafi, David Assmann
Produced by: Flying Moon Filmproduktion GmbH
Entered by: Rundfunk Berlin Brandenburg - rbb
Co-produced by Assmann: Rundfunk Berlin-Brandenburg /ARTE
Commissioning editors: Dagmar Mielke, Jens Stubenrauch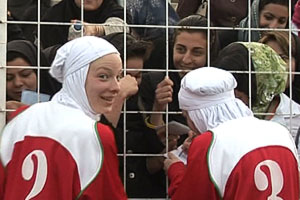 Tehran in April 2006: The first official friendly takes place between the Iranian women's football team and a local Berlin girls' team, in front of more than 1000 cheering female fans. The entire stadium is electric, charged with a high voltage of girl power. A couple of men hang around in front of the gates, trying to sneak a peek over the fence. They are barred from entering today. It has taken a year's hard work on the parts of both teams of young women to make this happen. But now, after overcoming numerous obstacles, they are really playing.
And these 90 minutes are about more than just a football game. The desire for both self-determination and equality is being expressed
here and it is clear: change is possible.
Jury Laudatio:
"Humour is a powerful tool for film-makers. And this film uses it expertly and confidently to distil the often complex subject of multi-culturalism, bringing a humanity and understanding to the screen. With wonderful characters and their stories punctuating the screen, this is a film which explores a mixture of powerful human values: the desire for freedom; following one's dreams; and equality.On the face of it, it's a film documenting the organising of a special football match: between two women teams, one Iranian and the other from Germany. But the film moves beyond the playing pitch to capture a compelling story about human beings from the very contrasting cultures of the west and the Middle East. When the two teams meet we discover a certain truth: that whatever the country or circumstance you come from, we share the same values".
Prix Europa IRIS 2009 TV Non Ficton Special Commendation
BASTION OF SIN
PRIX EUROPA IRIS 2009
TV NON FICTION
SPECIAL COMMENDATION
Original title: Hochburg der Suenden
Author/director: Thomas Lauterbach,
Commissioning editor: Gudrun Hanke El-Ghomri
Producer: Arek Gielnik
Production company: Indi Film GmbH,
Co-produced by: SWR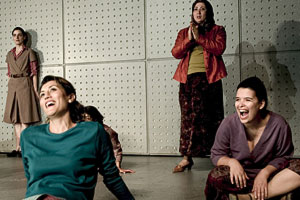 Aysel is a religious Muslim who for many years has led a sheltered life as a hous ewife and mother in the provincial south of Germany. When she learns that the state theatre in Stuttgart is looking for nonprofessional actresses for the tragedy "Medea", she sees it an opportunity to escape her tedious everyday existence – and so she auditions for a part. The director Volker Lösch wants to use the boundless freedom offered by theatre to penetrate the at times highly secretive world of Muslim women. As the stage adaptation develops, Aysel finds herself confronted by the tragic stories of life endured by other Muslim women, existences that up to now she only knew through hearsay. And as the only woman in the production wearing the Muslim headscarf, she is obliged to defend her values and lifestyle to other more modern Turkish women involved. Torn between her desire for freedom and her own traditions, Aysel gets entangled in a conflict with her beliefs and is forced to question her life to date.
Jury Laudatio:
"A wonderful documentary which moves beyond the story of a theatre production by first time Turkish female actors, to an insightful exploration of all aspects of Turkish women's existence in Germany today. Combining good, bad and ugly experiences, the jury felt the film-makers skilfully bring to the fore frank and open discussions among the women amateur actors, bringing a balanced view of their experiences. Brave and intelligent, Bastion Of Sin allows an insight into an area of multicultural life which moves beyond the stereotype and brings an honest account of a world which has remained beyond the cameras for all too long".
Prix Europa IRIS 2009 TV Non Ficton Special Commendation
CITY OF THE ROMA /LA CITÉ DES ROMS
PRIX EUROPA IRIS 2009
TV NON FICTION
SPECIAL COMMENDATION
Original title: La cite des Roms
Entered by: ARTE France, France
Author/director: Frédéric Castaignède
Commissioning editor: Pierrette Ominetti
Producer: Caroline Roussel
Co-produced by ARTE France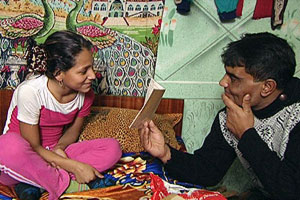 In the ghetto in Nadejda in the heart of Bulgaria, Angel Tichaliev and the other activists of the Romany Gypsy Youth Organisation, a local NGO, are running a school desegregation programme to combat the scandalous discriminations that still affect the gypsy communities.
Jury Laudatio:
"A poetic, epic documentary which gently and expertly unwraps a compelling story of life in one of Europe's multicultural ghettos, concentrating on a fundamental question: how do you get out of a life limited by circumstance, opportunity and poverty? The film's answer is to explore the attempts of a group in the Roma community of Nadeja, Bulgaria to ensure their young people gain a better education, faced with a political ambivalence – both among local politicians and the education authorities – which surrounds this question.
Documenting the attempts to try and get their young people better schooling, The City of the Roma is a beautiful and moving film and a powerful allegory for all immigrant communities throughout multicultural Europe, trying to gain their next generations a better start in life".