IN AN ALIEN LAND (SWEDEN)
PRIX EUROPA IRIS INTERCULTURAL TELEVISION PROGRAMME OF THE YEAR 2002 TV NON-FICTION
Original title: I Främmande Land
Entered by: Sveriges Tekevision-SVT, Sweden;
Author/director: Ylva Hemstadt
Editor: Kjell Tunegard
Camera: Peter Fredlund
Producer: Ingemar Persson
First broadcast by: SVT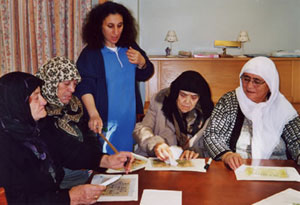 How does it feel to become old in Sweden when you were born - and perhaps lived most of your life - in another country? When you think more and more about the life you had back in the "old country" ? When you grow increasingly dependent on the care and understanding of those around you? Documentary filmmaker Ylva Hemstad went to the Stockholm suburb of Rinkeby - a district where 60% of its inhabitants were born in a country other than Sweden, to make a film about aging in Sweden. In recent years, many old people have moved to Sweden. Many of them speak no Swedish at all. Now they will be living out their final years in service flats and homes for the aged in what for them is an alien country: Turks, Iranians, South Americans and Swedes, side by side, with bingo, Christmas tree and memories of war and love. "Sweden is my country now", says 92-year-old Chilean Felicia Lopez. "I'm not a Swede, but I'm Swedish nevertheless."
 Jury Laudatio:
'A warm and colourful tapestry of human experiences, all gathered in a Stockholm suburb home for elderly people from all corners of the world. A film, excelling by beautiful camerawork and editing and which makes us laugh and cry. A film, which tells us that behind every anonymous human face there is an imaginative and adventurous story.'
 
PRIX Europa IRIS 2002 TV Non Ficton Special Commendation
PAGES IN THE FACTORY OF DREAMS
Entered by: WDR, Germany
Director: Annette von Wangenheim
Producer: Beate Schlanstein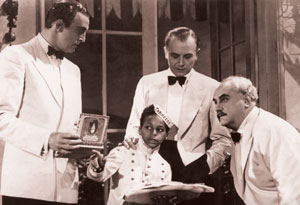 German cinematic history is full of emotive discoveries. The most recent example of this is the role of black extras used in German feature films between 1919 and 1945. Although these extras only had supporting roles this was a highly political issue as the films were made in order to fuel Germany's desire to reclaim African colonies. The documentary 'Pages in the Factory of Dreams' clearly shows that the process of reclaiming the colonies by using black extras in feature films was not based on harmless curiosity at all, instead it was an oppressive example of contemporary history. The documentary shows a number of film excerpts that illustrate the stereotype roles given to black people, such as the submissive servant or the primitive 'savage'. And it questions the living conditions of the people who had to earn their living as extras. This issue is discussed by four people who were there at the time.
Jury laudatio:
A revealing documentary about the long hidden and untold history of black 'extras' in German feature films between 1919 and 1945. A film, well illustrated by convincing archive material and eyewitness reports Based on accurate and profound research 'Pages in the factory of dreams' puts the finger on a rather sensitive spot in German film history of mortifying and nowadays unimaginable racism and humiliation of black people on the white screen.