FICTION: WHEN GRANDPA LOVED RITA HAYWORTH
NON FICTION: SORIOUS SAMURA'S AFRICA: EXODUS
WHEN GRANDPA LOVED RITA HAYWORTH 
PRIX EUROPA IRIS INTERCULTURAL TELEVISION PROGRAMME OF THE YEAR 2001 TV -FICTION
Original title: Als Grossvater Rita Hayworth liebte
Broadcast by: Zweites Deutsches fernsehen, ZDF, Germany
Author/Director: Iva Svarcová
Camera: Hille Sagel
Producer: Malte Ludin, Svarc.Film GbR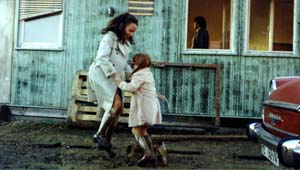 It's 1969 and the first winter after the violent climax to the Spring of Prague. Just as three astronauts are rocketed to the moon, thirteen-year-old Hannah and her crazy, young parents are rocketed into Germany's economic wonderland. It is a bumpy ride and they feel as if they have landed on a completely different planet. The father, Kuba, is glad that his prejudices against German society are confirmed, while Lida, Hannah's mother, throws herself into the consumer society, and Hannah's little sister loses her ability to speak. Hannah wants nothing more than to return to her grandfather, Zikmund. But when Zikmund dies and Neil Armstrong takes the first step on the moon, Hannah realizes that she too will have to take her own first great step.
Jury laudatio:
This well-staged and well-performed film about the fates of Czech asylum seekers in the sixties brilliantly illustrates the debate on migrants from remote countries today"

PRIX EUROPA IRIS MULTICULTURAL TELEVISION PROGRAMME OF THE YEAR 2001 TV -NON-FICTION
SORIOUS SAMURA'S AFRICA: EXODUS
Broadcast by: Channel 4, Great Britain
Author: Sorious Samura
Director: Dollan Cannell
Camera: Tim Lambon, David Niblock, Shane Teehan
Producer: Ruth Burnet, Insight News Television Ltd
Co-produced by: CNN, CBC-SRC, 2 Vandaag, SVT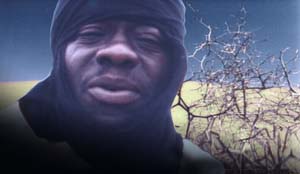 Filmmaker Sorious Samura follows the harrowing journeys of Africans desperate to leave their stricken countries for a better life in Europe. In Mali, West Africans meet to discuss the perilous journey across the Sahara desert. Many will die. The lucky few, who do make it, will eventually have to pay hundreds of dollars to the Moroccan Mafia to be smuggled across the Mediterranean to Spain in overcrowded boats. Many more will die on the journey. Samura follow the remarkable story of one migrant. Osas, whose absolute determination to achieve his mission reveals that he is willing to sacrifice everything to leave Africa. Samura, himself a migrant, worked 24 hours a day six days a week for two years, so he knows only too well the kind of problems Osas faces if he successfully reaches the other side.
Jury laudatio:
"An extremely well-informed tale of extraordinary fates, told by a man who once experienced this tragic exodus himself."
PRIX EUROPA IRIS 2001 TV NON FICTION SPECIAL COMMENDATION
BLOODY FOREIGNERS
Broadcast by: Channel 4 Television, Great Britain
Author: Omid Djalili
Director: Hillary Clarke
Camera: Graham Smith
Producer: Hillary Clarke, Lion Television Ltd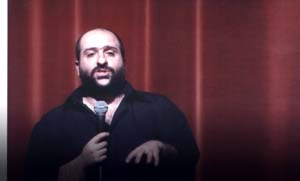 From Indian bingo callers to the truth about the lifting of the fatwa on Salmon Rushdie. A lot of award-winning, stand-up comedian Omid Djalili's material is based on race and his experience and unique slant on living in Britain as a 'bloody foreigner'. As the son of Iranian immigrants who came to England in 1958, Omid goes on a personal quest to find out what life is like for the new wave of asylum seekers, and to find new material for his stand-up show. Can asylum seekers inspire comedy? Omid meets Iraqi Kurds fleeing from Saddam Hussein, a boxer from Kosovo and a Slovanian gypsy family who are being deported. He joins in a demonstration to protest about the Campsville Detention Centre. He hears the refugees' tragic stories and asks if it isn't all a terrible waste of time and taxpayers' money and he gets some big laughs from the audience during his stand-up show.
Jury laudatio:
"A daring approach to one of the most sensitive and serious issues in Western societies: giving shelter to refugees and illegal immigrants."