PRIX EUROPA ORGANISATION
Every year PRIX EUROPA awards the best television, radio and Internet productions 'Made in Europe'. During the festival week about one thousand media professionals come together to Berlin to view, to listen to and discuss the entries of all competition categories. Adjudication is by open jury groups, composed of program makers from all corners of our continent. Professional dialogue across the boundaries of geography, industry or genre is at the core of the festival, which is supported by a powerful alliance of policy-makers and broadcasters.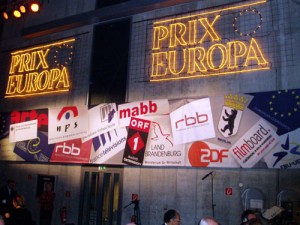 PRIX EUROPA ALLIANCE 
The PRIX EUROPA is governed by a Steering Committee.
It is supported by:
European Parliament, European Commission, European Broadcasting Union-EBU/UER, European Alliance for Television and Culture -EATC, Land Berlin, Land Brandenburg, Medienanstalt Berlin-Brandenburg, Medienboard Berlin-Brandenburg, ARTE, France Télévisions, ERT, Magyar Televísió, Norsk Rikskringkasting-NRK, Dutch Public Service Broadcaster-NTR, ORF, Radio France, Raidió Teilifís Éireann-RTE, Rundfunk Berlin-Brandenburg-RBB, Radio Russia, SRG SSR, Sveriges Radio-SR, Sveriges Television-SVT, Sveriges Utbildningsradion-UR, Telewizja Polska S.A-TVP, Yleisradio-YLE, Zweites Deutsches Fernsehen-ZDF.
PRIX EUROPA OFFICE
Operational management of the festival and the competition lies with the PRIX EUROPA office.
All information concerning the PRIX EUROPA is available at:
PRIX EUROPA  
RBB, D-14046 Berlin
Tel:  +49 30 97 993 10910
Fax: +49 30 97 993 10919
E-mail: office@prix-europa.de
Internet: http://www.prix-europa.de