GOD'S WAITING ROOM (UNITED KINGDOM)

PRIX EUROPA IRIS INTERCULTURAL TELEVISION PROGRAMME OF THE YEAR 2008 TV NON-FICTION
Entered by: Century North, United Kingdom
Director: Heenan Bhatti
Camera: Heenan Bhatti
Commissioning editor: Aaqil Ahmed
First broadcast by: Channel 4
Production Company: Century North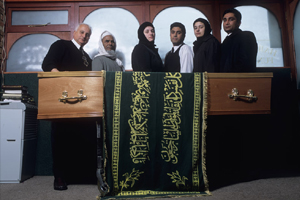 Taslim Funerals in London's East End provide a burial service for the diverse Muslim community. With unique access, the moving documentary 'God's Waiting Room' by film-maker Heenan Bhatti follows the team at Taslim as they deal with the cultural minefield that is burying Islam's dead.
Sitting in the shadow of the East London Mosque is one of the UK's few dedicated Muslim Funeral Services. Established in 1950, Taslim Funerals takes on the complex job of catering for Britain's Islamic dead. From Somalis to Turks to Asians, they all turn to this family-run firm to deal with the religiously sensitive rituals of Muslim burial.
Murder victims, dead foetuses and hospital deaths are all part of their working day and the company clocks up approximately 25 'clients' a week. But Taslim's owners take it all in their stride with a surprisingly upbeat and positive outlook.
Whatever their origins, British Muslims have one thing in common: they want burials done as quickly as possible, just as Islamic tradition dictates. As such, the team is under this religiously-decreed time pressure to get hold of the dead body, wash and wrap it, with the administration of prayers, while also trying to deal with official red tape, such as getting the death certificate signed.
As the team at Taslim walks a bureaucratic tightrope, God's Waiting Room gives a unique insight into how a religious minority deals with death in the face of the often conflicting laws of a host country.
 
Jury Laudatio:
"A film that brings us into an unknown and closed world that often scares us and that is hardly ever seen on screen. A moving story with many layers that gives insight in rituals with which most of us don't want to be confronted. As a fly on the wall the programme maker is present in highly sensitive situations of sorrow and sadness. The documentary deals with death but at the same time it is full of life. At many moments it makes you cry but also laugh. The film maker follows a Muslim funeral company revealing their daily routine and shows their struggle to deal with Muslim rules of burying the dead and western rules of bureaucracy".
 
Prix Europa IRIS 2008 TV Non Ficton Special Commendation
CROSS AID POST / KRUISPOST
Authors: Maria Mok, Meral Uslu
Camera: Meral Uslu
Commissioning editor: Jelle Peter de Ruiter
First broadcast by: IKON, Netherlands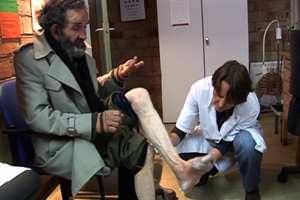 The Cross Aid Post is a general practice in Amsterdam's red light district where illegal immigrants, the homeless, drug addicts, and others lacking health insurance can go for medical care. It is run by retired doctors and doctors in training, who voluntary help these patients. They work with refused hospital material and medicine leftovers from deceased patients. The doctors call it "the only third world place in Holland".
Prix Europa IRIS 2008 TV Non Ficton Special Commendation
WHITE GIRL
Author: Abi Morgan
Director: Hettie MacDonald
Produced by: Tiger Aspect Productions
Commissioning editor: Lucy Richer
Producer: Andrew Woodhead
Entered by: British Broadcasting Corporation, BBC, United Kingdom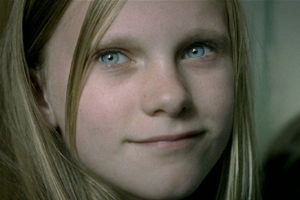 The inspirational story of 11-year old Leah McNeil and her family's relocation to an entirely Muslim community in Bradford. A touching and emotional drama, which explores the hope as well as the tension that can arise when two very different cultures collide.