SPECIAL FLIGHT (SWITZERLAND)

PRIX EUROPA IRIS INTERCULTURAL TELEVISION PROGRAMME OF THE YEAR 2012 TV NON-FICTION
Author & Director: Fernand Melgar
Produced by: Climage
Entered by: SRG SSR - Radio Television Suisse/RTS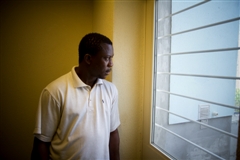 In Switzerland, more than 200000 people live in fear every day : at any moment they risk finding themselves in prison without committing any crime. They can be tied up, handcuffed, gagged and returned to their native land by force on a special rendition flight. This country, where they have rebuilt a new life and founded a family, could from one day to the next banish them and humiliate them. Why ? For the simple reason that this person is an illegal immigrant. Every year, thousands of men and women find
themselves in one of the 33 administrative detention centers in the country and could be incarcerated for up to 24 months. The filmmaker (winner of the 2008 Golden Leopard of the Locarno international Film Festival) has chosen to immerse himself in the Frambois prison in Geneva, Capital of Human Rights.
Shot during 60 days in observational style, this film helps the viewers to put a face on these illegal migrants, that politicians and police forces normally try to reduce to facts and numbers.
Even though Vol Special deals with the Swiss migration laws, it's international relevance is important: since many years, most countries in Europe consider Switzerland as a lab for harsh laws against migrants.
JURY LAUDATIO:
Shot in the claustrophobic confines of Frambois Prison in Geneva this "Fly on the Wall" documentary charts the last hopes of illegal immigrants in Switzerland. The film makers achieve remarkable and unique access to all arenas of the prison and are able to demonstrate the tension and emotion of prisoners and staff involved in the immigration system. Intimate portraits of the main characters and dramatic storytelling combine to make this a powerful and compelling account of Swiss immigration law.