DUNYA & DESIE


  A drama series for the youth. Dunya and Desie, two best friends in Amsterdam from  respectively Dutch and Moroccan backgrounds, follow the rocky road to adulthood in an endearing and hilarious way.
ZO RAYMANN (So Raymann)

Photo: Jean Pierre Heijmans  'So Raymann' is a late night show featuring Surinamese stand-up comedian Jörgen Raymann, who always manages to attract a loyal, mostly young, multicultural group of viewers.
CITY FOLK

City Folk is an international co-production of broadcasting companies of around 14 European countries. The programme presents in each episode outspoken personalities from all levels of urban society, irrespective the colour of their skin or their country of origin. The mix of people portrayed, reflects the demographic reality in Europe's big cities, in which roughly one third is from different ethnic background. Im age of a diverse, multicultural city by portraying thnts.
PREMtime

PREMtime is a programme about the Dutch multicultural society, presented by Surinamese lawyer Prem Radhakishun. PREMtime is a journalistic programme in which the quality of the Dutch society is tested. Problems are addressed and, if possible, solved. Feelings of unease and prejudices are analysed and discussed.
CIRCUS PEEK-A-BOO (Circus Kiekeboe)

A children's programme for kids between 2 and 5 about the adventures of an exotic circus family. It is aimed at children who speak Dutch, Turkish, Berber, or Moroccan-Arabic. Various elements from different cultures crop up in the themes of the episodes.
WHY PROSPECTLESS? (Hoezo kansloos)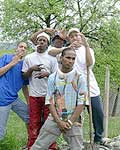 Ten so called prospectless young people out of depressed areas in Rotterdam went to Rumania to help the Roma population and to build a house for one of the Roma families. The idea behind this trip is to show the boys from different ethnic origins their own opportunities. By confronting them with real poverty, they might be able to put into perspective their own situation.
PLANET HOLLAND

Three young hosts describe the youth in Holland in 2005. In six episodes, Gülsah Dogan, Anuar Aoulad Abdelkrim and Andrew Makkinga explore multicultural Holland. On their journey they land in the most diverse situations, including the cock crowing championships, bling bling experts, the army, a kickboxing gala, churches in Amsterdam South-East, Miss Nude '05, etc.
FALSE SURFACE (Vals Plat)

In multicultural current affairs programme "False Surface", young and older programme makers from various cultural backgrounds offer their personal views on our changing society. With extraordinary profiles, powerful statements and sharp observations they depict familiar stories that reflect what is going on in society.
The term 'false surface' is used in cycling, and means 'surface or road that is not exactly as it seems'. The same applies to the programme False Surface: when you zoom into reality, things are often different than they seem.
THE HALAL GIRLS (De meiden van Halal)

Elza Jo van Reenen Esma, Jihad and Hajar Alariachi. Three quick-witted sisters engage in discussions with people who have completely different opinions, and explore the boundaries of their own lives. These boundaries have been explicitly set by their religion and culture, as well as by their parents and the Koran. The sisters are of Moroccan descent and live in Amsterdam-West. They're orthodox Muslims, wear headscarves and are raised in a modern way, but according to Islamic traditions. They do everything that's expected of a good Muslim: Ramadan, headscarf, no sex before marriage, daily prayers, etc. The sisters take their religion and culture very seriously, but also have a sense of humour. A headscarf is very practical for holding your mobile phone against your ear.
The New Dutch Team (Het Nieuw Nederlands Elftal)

In 40 years time, the composition of the Dutch population will have changed drastically: more than half the population will come from a foreign background. Who are these people? The New Dutch Team tracks eleven families who will reflect the composition of the Dutch population in the year 2050. All these families are expecting babies and in the programme, viewers are introduced to these fathers, mothers and their babies: boys and girls, rich and poor, all denominations and cultures are united here. Where do these people's families come from originally and what are their future expectations? What do they think of today's Holland?
© Yourself

Sixty-five percent of Dutch schoolchildren got to (V)MBO (vocational colleges). They are Holland's backbone, our vital skilled workforce without whom the country would come to a standstill. But they are under extreme social pressure because they are burdened by a media-fired image of being 'dumb'. In ©Yourself, (V)MBO students across Holland are given both a voice and a face. So-called 'drop-outs', criminals and layabouts tell their own stories in ©Yourself. They want the one-sided negative image about them to be thrown overboard: 'It Kills our Future'.
Fok You!

Fok You!, a five-part drama series based on a true story tells the tale of 14-year-old Anna. Anna is a just a very ordinary, difficult teenager. Street life, her friends MTV and The Box dominate her life. Freedom is always better than school and the nagging at home. 'All you need on the street is a mobile and friends, says Anna.
When no place at a refuge can be found for her after a series of incidents with lover boys and street friends, the Child Welfare authorities send her to a juvenile detention centre.
The Bazaar (De Bazaar)

The Bazaar in the town Beverwijk is thé melting pot in the Netherlands where many different cultures weekly come together. People from different nationalities, religions, and ages meet here. Each weekend the market draws some 80.000 visitors and en is therewith a top attraction in the Netherlands. One can find hotdogs alongside kebabs, and vegetables and citrus fruits beside high piled furniture. 
At this spot Dieuwertje Blok and Manoushka Zeegelaar Breeveld present the live magazine "De Bazaar" each Saturday afternoon. Renowned guests from different cultural backgrounds pull up a chair and talk about their youth, ambitions, career and are above all curious about one another. Meanwhile, cabaret performer Hakim Traïdia checks out how things are at the bazaar. Can you really buy anything there? And what can you buy for fifty euro? Bridal jewels? New nails? Or exotic vegetables with names that sound magnificent? Each episode someone is declared The Merchant of the Week by Hakim. The life story of this merchant is told in a reportage. How did he or she land up in the Netherlands? What is his or her family history this person carries along? A TV cook combs the market in search of ingredients for dishes he will prepare on the spot. (De Bazaar was produced by the NPS in collaboration with MTNL, RVU, AVRO, OHM en NMO.)
Nearby The Netherlands (Dichtbij Nederland)

Nearby The Netherlands is a cross media project (radio, TV, Internet) that brings news from the Netherlands and the countries where many Dutch inhabitants have their roots: Surinam, the Antilles, Turkey and Morocco. The programme focuses on stories of ordinary people and their emotions.
De Girls of Haram (De Meiden van Haram)

Soundos el Ahmadi en Khadija Massaoudi, two Dutch women from Moroccan descent, investigate issues that are "haram". How is multicultural Netherlands dealing with matters that are unclean, forbidden or taboo?
Free radicals (Vrije radicalen)

"Free radicals" is a series of five documentaries about young people who make radical choices in their lives. What are their motives and…. are they potentially dangerous?
Ab & Sal

Ab & Sal is a series full of Moroccan humour, satire, and a touch of journalism. Abdelhakim Chouaat and Salaheddine Benchikhi are two young Muslims of Moroccan origin who use razor-sharp sketches to scrutinize Dutch society and ridicule current issues. For example, Sal teaches native Dutchmen who stay behind in deprived districts how to survive among the Moroccans. Or they investigate how to become rich quickly in the Netherlands. Or…. what will happen if Muslims take over power.
BIMBO'S EN BOERKA'S

Over the past few years the proverbial Dutch tolerance seems to be increasingly going through a rough patch. People put up with less and less from each other, are ever less prepared to give and take, to compromise. On the Bimbo's en Boerka's (Bimbos and Burkas) theme nights Jeroen Pauw and the Girls of Halal discuss tricky issues that are symptomatic of the changing climate in multicultural Holland with representatives of various religious movements, government officials, politicians, and ordinary citizens.
SECOND CHANCE (De Herkansing)

In the series De Herkansing (Second Chance) Prem Radhakishun goes to great lengths to turn the school performance of teenagers who are not doing well in school around. Prem: "Youths who have gotten into trouble but who have their whole future ahead of them, deserve a second chance in this society. You can't take that away from them!" Every episode focuses on a teenager with his or her own problems. Prem talks to the youths themselves, to their parents and to their schools. Then he suggests solutions and steps to be taken for the youths to do well again.
Rauw & Puur

Rauw en Puur (Raw and Pure) is a four-episode documentary series about the perception of the environment of youths who identify with the street culture. In several Dutch cities we see how "street youths" handle universal themes, such as love, money, respect, violence, and ambition.
Roma in Europa

The seven-episode international documentary series Roma in Europe portrays Roma from countries such as Spain, Croatia, Poland, Ireland and the Netherlands. Based on their personal stories a picture is painted of the situation of what may be the most abused minority group in Europe. Roma in Europe is a co-production by the Eurovision Intercultural and Diversity Group (EIDG).
Gonzo

In "Gonzo" hosts Jalal Bouzamour, Ersin Kiris, and Khadija Massaoudi go looking for issues and activities that are somehow controversial. They seek to witness as much as they can in various unknown worlds, subcultures, and communities. By immersing, by experiencing, and by joining the people they meet, they paint an intimate picture of the Netherlands as we do not usually see it.
Gonzo is a journalistic reporting style (journalism, film or other multimedia production) in which the reporter is an integral part of the subject. Unlike, for example, the narrative style or the style in which the interviewer is merely a passive spectator.
DE HALVE MAAN

De Halve Maan is a weekly talk show featuring different opinions in the Muslim community. Fouad Sidali, Naema Tahir, Abdoe Khoulani, Funda Müjde, Damon Golriz, and Famile Arslan are the members of the panel. Hostess is Naeeda Aurangzeb.
De Halve Maan is the only opinion programme on Dutch television in which current affairs and social developments are discussed only by Dutch people originating from Islamic cultures. The programme is cheerful in tone without doing injustice to its content. In De Halve Maan the panel members neither shun nor seek confrontation. Rather, the programme expresses an opinion in which the versatility of opinions from experts who have roots in the Islamic community will be presented. The variety in subjects makes the programme accessible to a wide audience.
TANTE IN MAROKKO (AUNT IN MOROCCO)

In Tante in Marokko Maxim Hartman and Lamia Abbassi go looking for stories from Dutch people in Morocco. Who is on holiday and who is going back for good? What are they doing and where are they from? What is life like in Morocco as compared to the Netherlands?
MIJN LAND (MY COUNTRY)

In the context of the elections to the Lower House NTR asked three pronounced programme makers to give their vision on MY COUNTRY.
AANPAKKERS IN DE ZORG (HANDS-ON CARE WORKERS)

 In the five-episode documentary series Aanpakkers! film makers Ko van Reenen and Frank van Osch go looking for the heart and soul in care. Five portraits of idealistic and headstrong pioneers who, against the upscaling current, started their own care organisations. Alcoholics, psychiatric patients, youths with serious behavioural problems - all sorts and conditions of people, from all kinds of cultural backgrounds, are entrusted to their care. Their approach is usually simple and straight from the heart. As one of the hands-on care workers calls it: "My method is that of impulse and chaos". A peek into the world of four miniature care institutions and their colourful clientele.

MIJN MOSKEE IS TOP (MY MOSQUE IS TOP)


This series intends to show how Muslims experience their mosques, while at the same time painting a picture of Islamic life in the Netherlands. Over a period of six weeks hosts Esmaa and Umar visit a number of mosques nominated by enthusiastic visitors themselves. Led by a guide, a mosque visitor who can make a passionate plea for his or her mosque, each mosque is scrutinized. How special is the mosque? What are its pros? The programme wants to introduce the audience to the variety of mosques in the Netherlands and show those mosques that are an inspiration when it comes to activities, speeches, architecture, etc.