DUNYA & DESIE

  A drama series for the youth. Dunya and Desie, two best friends in Amsterdam from  respectively Dutch and Moroccan backgrounds, follow the rocky road to adulthood in an endearing and hilarious way.
ZO RAYMANN (So Raymann)

Photo: Jean Pierre Heijmans  'So Raymann' is a late night show featuring Surinamese stand-up comedian Jörgen Raymann, who always manages to attract a loyal, mostly young, multicultural group of viewers.
CITY FOLK

City Folk is an international co-production of broadcasting companies of around 14 European countries. The programme presents in each episode outspoken personalities from all levels of urban society, irrespective the colour of their skin or their country of origin. The mix of people portrayed, reflects the demographic reality in Europe's big cities, in which roughly one third is from different ethnic background. Im age of a diverse, multicultural city by portraying thnts.
PREMtime

PREMtime is a programme about the Dutch multicultural society, presented by Surinamese lawyer Prem Radhakishun. PREMtime is a journalistic programme in which the quality of the Dutch society is tested. Problems are addressed and, if possible, solved. Feelings of unease and prejudices are analysed and discussed.
THE DINO SHOW
the "Dino Show" by the energetic, wilful and often cheeky, stand-up comedian Jandino Asporaat. A weekly show with comedy, surprising guests en funny sketches.
In every show Jandino receives famous guests. In between is the regular sketch about the fictional fast food restaurant FC Kip.
In 2013 the Dino Show was nominated for the Golden Rose (Rose d'Or) in the category entertainment.
CIRCUS PEEK-A-BOO (Circus Kiekeboe)

A children's programme for kids between 2 and 5 about the adventures of an exotic circus family. It is aimed at children who speak Dutch, Turkish, Berber, or Moroccan-Arabic. Various elements from different cultures crop up in the themes of the episodes.
WHY PROSPECTLESS? (Hoezo kansloos)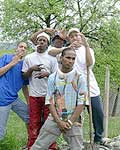 Ten so called prospectless young people out of depressed areas in Rotterdam went to Rumania to help the Roma population and to build a house for one of the Roma families. The idea behind this trip is to show the boys from different ethnic origins their own opportunities. By confronting them with real poverty, they might be able to put into perspective their own situation.
PLANET HOLLAND

Three young hosts describe the youth in Holland in 2005. In six episodes, Gülsah Dogan, Anuar Aoulad Abdelkrim and Andrew Makkinga explore multicultural Holland. On their journey they land in the most diverse situations, including the cock crowing championships, bling bling experts, the army, a kickboxing gala, churches in Amsterdam South-East, Miss Nude '05, etc.
FALSE SURFACE (Vals Plat)

In multicultural current affairs programme "False Surface", young and older programme makers from various cultural backgrounds offer their personal views on our changing society. With extraordinary profiles, powerful statements and sharp observations they depict familiar stories that reflect what is going on in society.
The term 'false surface' is used in cycling, and means 'surface or road that is not exactly as it seems'. The same applies to the programme False Surface: when you zoom into reality, things are often different than they seem.
THE HALAL GIRLS (De meiden van Halal)

Elza Jo van Reenen Esma, Jihad and Hajar Alariachi. Three quick-witted sisters engage in discussions with people who have completely different opinions, and explore the boundaries of their own lives. These boundaries have been explicitly set by their religion and culture, as well as by their parents and the Koran. The sisters are of Moroccan descent and live in Amsterdam-West. They're orthodox Muslims, wear headscarves and are raised in a modern way, but according to Islamic traditions. They do everything that's expected of a good Muslim: Ramadan, headscarf, no sex before marriage, daily prayers, etc. The sisters take their religion and culture very seriously, but also have a sense of humour. A headscarf is very practical for holding your mobile phone against your ear.
The New Dutch Team (Het Nieuw Nederlands Elftal)

In 40 years time, the composition of the Dutch population will have changed drastically: more than half the population will come from a foreign background. Who are these people? The New Dutch Team tracks eleven families who will reflect the composition of the Dutch population in the year 2050. All these families are expecting babies and in the programme, viewers are introduced to these fathers, mothers and their babies: boys and girls, rich and poor, all denominations and cultures are united here. Where do these people's families come from originally and what are their future expectations? What do they think of today's Holland?
© Yourself

Sixty-five percent of Dutch schoolchildren got to (V)MBO (vocational colleges). They are Holland's backbone, our vital skilled workforce without whom the country would come to a standstill. But they are under extreme social pressure because they are burdened by a media-fired image of being 'dumb'. In ©Yourself, (V)MBO students across Holland are given both a voice and a face. So-called 'drop-outs', criminals and layabouts tell their own stories in ©Yourself. They want the one-sided negative image about them to be thrown overboard: 'It Kills our Future'.
Fok You!

Fok You!, a five-part drama series based on a true story tells the tale of 14-year-old Anna. Anna is a just a very ordinary, difficult teenager. Street life, her friends MTV and The Box dominate her life. Freedom is always better than school and the nagging at home. 'All you need on the street is a mobile and friends, says Anna.
When no place at a refuge can be found for her after a series of incidents with lover boys and street friends, the Child Welfare authorities send her to a juvenile detention centre.
The Bazaar (De Bazaar)

The Bazaar in the town Beverwijk is thé melting pot in the Netherlands where many different cultures weekly come together. People from different nationalities, religions, and ages meet here. Each weekend the market draws some 80.000 visitors and en is therewith a top attraction in the Netherlands. One can find hotdogs alongside kebabs, and vegetables and citrus fruits beside high piled furniture.
At this spot Dieuwertje Blok and Manoushka Zeegelaar Breeveld present the live magazine "De Bazaar" each Saturday afternoon. Renowned guests from different cultural backgrounds pull up a chair and talk about their youth, ambitions, career and are above all curious about one another. Meanwhile, cabaret performer Hakim Traïdia checks out how things are at the bazaar. Can you really buy anything there? And what can you buy for fifty euro? Bridal jewels? New nails? Or exotic vegetables with names that sound magnificent? Each episode someone is declared The Merchant of the Week by Hakim. The life story of this merchant is told in a reportage. How did he or she land up in the Netherlands? What is his or her family history this person carries along? A TV cook combs the market in search of ingredients for dishes he will prepare on the spot. (De Bazaar was produced by the NPS in collaboration with MTNL, RVU, AVRO, OHM en NMO.)
Nearby The Netherlands (Dichtbij Nederland)

Nearby The Netherlands is a cross media project (radio, TV, Internet) that brings news from the Netherlands and the countries where many Dutch inhabitants have their roots: Surinam, the Antilles, Turkey and Morocco. The programme focuses on stories of ordinary people and their emotions.
De Girls of Haram (De Meiden van Haram)

Soundos el Ahmadi en Khadija Massaoudi, two Dutch women from Moroccan descent, investigate issues that are "haram". How is multicultural Netherlands dealing with matters that are unclean, forbidden or taboo?
Free radicals (Vrije radicalen)

"Free radicals" is a series of five documentaries about young people who make radical choices in their lives. What are their motives and…. are they potentially dangerous?
Ab & Sal

Ab & Sal is a series full of Moroccan humour, satire, and a touch of journalism. Abdelhakim Chouaat and Salaheddine Benchikhi are two young Muslims of Moroccan origin who use razor-sharp sketches to scrutinize Dutch society and ridicule current issues. For example, Sal teaches native Dutchmen who stay behind in deprived districts how to survive among the Moroccans. Or they investigate how to become rich quickly in the Netherlands. Or…. what will happen if Muslims take over power.
TALKSHOW BIMBO'S EN BOERKA'S

Over the past few years the proverbial Dutch tolerance seems to be increasingly going through a rough patch. People put up with less and less from each other, are ever less prepared to give and take, to compromise. On the Bimbo's en Boerka's (Bimbos and Burkas) theme nights Jeroen Pauw and the Girls of Halal discuss tricky issues that are symptomatic of the changing climate in multicultural Holland with representatives of various religious movements, government officials, politicians, and ordinary citizens.
SECOND CHANCE (De Herkansing)

In the series De Herkansing (Second Chance) Prem Radhakishun goes to great lengths to turn the school performance of teenagers who are not doing well in school around. Prem: "Youths who have gotten into trouble but who have their whole future ahead of them, deserve a second chance in this society. You can't take that away from them!" Every episode focuses on a teenager with his or her own problems. Prem talks to the youths themselves, to their parents and to their schools. Then he suggests solutions and steps to be taken for the youths to do well again.
Rauw & Puur

Rauw en Puur (Raw and Pure) is a four-episode documentary series about the perception of the environment of youths who identify with the street culture. In several Dutch cities we see how "street youths" handle universal themes, such as love, money, respect, violence, and ambition.
Roma in Europa

The seven-episode international documentary series Roma in Europe portrays Roma from countries such as Spain, Croatia, Poland, Ireland and the Netherlands. Based on their personal stories a picture is painted of the situation of what may be the most abused minority group in Europe. Roma in Europe is a co-production by the Eurovision Intercultural and Diversity Group (EIDG).
Gonzo

In "Gonzo" hosts Jalal Bouzamour, Ersin Kiris, and Khadija Massaoudi go looking for issues and activities that are somehow controversial. They seek to witness as much as they can in various unknown worlds, subcultures, and communities. By immersing, by experiencing, and by joining the people they meet, they paint an intimate picture of the Netherlands as we do not usually see it.
Gonzo is a journalistic reporting style (journalism, film or other multimedia production) in which the reporter is an integral part of the subject. Unlike, for example, the narrative style or the style in which the interviewer is merely a passive spectator.
De Halve Maan

De Halve Maan was a weekly talk show featuring different opinions in the Muslim community. Fouad Sidali, Naema Tahir, Abdoe Khoulani, Funda Müjde, Damon Golriz, and Famile Arslan are the members of the panel. Hostess is Naeeda Aurangzeb.
De Halve Maan was the only opinion programme on Dutch television in which current affairs and social developments are discussed only by Dutch people originating from Islamic cultures. The programme is cheerful in tone without doing injustice to its content. In De Halve Maan the panel members neither shun nor seek confrontation. Rather, the programme expresses an opinion in which the versatility of opinions from experts who have roots in the Islamic community will be presented. The variety in subjects makes the programme accessible to a wide audience.
TANTE IN MAROKKO (AUNT IN MOROCCO)

In Tante in Marokko Maxim Hartman and Lamia Abbassi go looking for stories from Dutch people in Morocco. Who is on holiday and who is going back for good? What are they doing and where are they from? What is life like in Morocco as compared to the Netherlands?
MIJN LAND (MY COUNTRY)

In the context of the elections to the Lower House NTR asked three pronounced programme makers to give their vision on MY COUNTRY.
AANPAKKERS IN DE ZORG (HANDS-ON CARE WORKERS)

 In the five-episode documentary series Aanpakkers! film makers Ko van Reenen and Frank van Osch go looking for the heart and soul in care. Five portraits of idealistic and headstrong pioneers who, against the upscaling current, started their own care organisations. Alcoholics, psychiatric patients, youths with serious behavioural problems - all sorts and conditions of people, from all kinds of cultural backgrounds, are entrusted to their care. Their approach is usually simple and straight from the heart. As one of the hands-on care workers calls it: "My method is that of impulse and chaos". A peek into the world of four miniature care institutions and their colourful clientele.
NOMADEN EN PIRATEN (NOMADS AND PIRATES)
In the four-part documentary series "Nomads and Pirates- Somali's in Holland" the Somali- Dutch writer Yasmine Allas investigates why these refugees from the Horn of Africa face have such a hard time to find their place in Dutch society? Do they want to integrate in society or do they remain nomads at heart that do not like to settle? What are the things they hold on to from their own culture and what do they let go of? This series gives a revealing portrayal of a closed community.
MIJN MOSKEE IS TOP (MY MOSQUE IS TOP)


This series intends to show how Muslims experience their mosques, while at the same time painting a picture of Islamic life in the Netherlands. Over a period of six weeks hosts Esmaa and Umar visit a number of mosques nominated by enthusiastic visitors themselves. Led by a guide, a mosque visitor who can make a passionate plea for his or her mosque, each mosque is scrutinized. How special is the mosque? What are its pros? The programme wants to introduce the audience to the variety of mosques in the Netherlands and show those mosques that are an inspiration when it comes to activities, speeches, architecture, etc.
ONBEVOEGD GEZAG ("Not Authorised Authority" (NOT AUTHORISED AUTHORITY)
This series  portrays informal authorities in districts and neighbourhoods, swimming pools and football fields. People who, often on a voluntary basis, use unorthodox methods and a wilful approach to command respect and to achieve things in areas on which the official authorities have long lost their grip. The series was developed in a unique cooperation with "Forum", the Dutch institute for Multicultural Issues.
GRIMASSEN (GRIMASSES)
The series Grimasses has a closer look at the Dutch world of comedy, which is increasingly enriched with artists not originally from Holland. Their invigorating passion, style and their different view on our and their own culture is praised all over Holland. But how strong remain the ties to their roots?
TALKSHOW ISL'AMOUR
The talk show Is'l'amour, broadcast in May 2011 focused on the relation of Islam and sexuality: can you get hitched to someone you met at the disco? Sex before marriage. Or: why are career women unattractive to a religious man? And also: what do Muslims think about homosexuality? In short a talk show about halal and haram in love and sexuality.
LIPSTICK MUSLIMS
In the series 'Lipstick Muslims' presenter Samira El Kandoussi (being a headscarf wearing Muslim woman herself) investigates the possibilities and boundaries for women wearing a headscarf to be fashionable. To find the answer, she travels to Jakarta, Cairo, Casablanca, Rabat, London, New York and Dubai.

RAMADAN JOURNAAL
During Ramadan, the month of Islamic fasting, a weekly magazine "The Ramadan Journal" reports about events related to this most important period in the year for Muslims all over in the world.
BLAUW EN BONT (BLUE AND FUR)
In a series of 2 episodes Salaheddine Benchikhi investigates the complicated relationship between the inhabitants of the colourful Hague neighbourhood "De Schilderswijk" and the police. Part one deals with the case of Maha Sabry, who tries to get justice after a strong confrontation with a motorcycle policeman. Was he a victim of exaggerated police violence? New video footage and witnesses who for the first time tell their stories, shed new light on this case.
UITGESLOTEN (EXCLUDED) 
A four-part series in which Anousha Nzume visits Dutch people who have to deal with prejudices and discrimination, for example in the workplace, at school or in football. In Episode 4: In 2015, the judgment of the teacher will be decisive for the choice of the high school of the ground school pupils. (So no longer the so-called Cito test will be decisive). How does this work out for students from a non-Dutch background? Anousha speaks with parents and children who received an advice for a low-level high school. What influences the decision of the teachers?
MIJN MOEDER IS DEMENT (MY MOTHER HAS DEMENTIA) 
For a majority of first generation Turkish migrants in the Netherlands dementia is still an unknown disease. 'Forgetfulness' is something that simply comes with old age and not much to worry or talk about. On top of that, dementia is a taboo: people who display typical symptoms of dementia aren't sick but 'crazy' and are kept indoors to keep the neighbours from talking. Therefore, hardly anyone in the community is diagnosed with the disease. Only when a crisis occurs do professional caregivers "discover" Turkish migrants with dementia and can they provide them with the by then much needed care. In this documentary we meet the Gurbuz family. Son Salih wants to have his mother's recent forgetfulness examined. He takes her to a hospital where doctors have developed the "symbol study" - a diagnostic instrument, specially developed for people without a background in Dutch language and culture. Subsequently, Salih's mother is diagnosed with dementia. Salih wants to prepare for the future and learn all there is about dementia.
SUPERJEWS OF AJAX
Filmmaker Nirit Peled is an Israeli living in Amsterdam. In her film Superjews of Ajax she examines the phenomenon in which fans of Amsterdam football club Ajax have adopted the nickname 'Superjews'. Not only have the Superjews appropriated the name but they have also appropriated the Star of David, Israeli flags and songs like "Hava Nagila." In the film, we meet Ajax fans, an Ajax archivist, former Ajax president Uri Coronel and a Holocaust survivor. All have an opinion about the phenomenon. With powerful recordings inside the Ajax Arena, archive footage of Ajax supporters from before the Second World War, Superjews is more than a film about Jews. Superjews is about identity, the use of symbols, using somebody else's symbols, and what it means to be part of a group.
SEX EN DE ZONDE (SEX AND SIN)
The documentary series "Sex and sin" is presented by former politician Femke Halsema. Islamic women make for a popular subject of conversation; their veil, segregated swimming, their relations with men, their freedom. But they rarely get to speak about all this themselves. In six 50-minute episodes Femke Halsema travels the Islamic world and talks to seven Islamic women about their faith, their lives and battles. Is there room for free-spirited and unruly women within the Islamic faith? Halsema is a non religious unbelieving outsider. The fundamental question she carries with her on her travels is to find out what motivates women to be faithful to a religion that often treats them callously.
DE VERBROEDERING (THE RECONCILIATION)
In the series "The Reconciliation" (De verbroedering) TV host and columnist Umar Mirza (of Pakistan origin) investigates the discord in the Muslim world.
BONTE VROUWEN (COLOURFUL WOMEN)In the six-part series Colourful Women (Bonte Vrouwen) young talents are being followed in their climb up the corporate ladder. Leading companies such as Baker & McKenzie and Shell give an insight into their equality and diversity policy. An experienced role model with a far-advanced career mentors a promising talent in the world of boardrooms and company trainings. The women with experience have already made drastic career decisions that the talents will have to face too one day: moving to a strange country, integrate into a white male culture and working hard to be able to combine an ambitious career with a private life.
IMAM ACHTER TRALIES (IMAM BEHIND BARS)
Imam behind bars is a four-part series about the work of imams who work in Dutch prisons.
SLAVERY
A special and remarkable (multi-media) project by the NTR history department was the series "Slavery" that investigates to the most concealed part of Dutch history. How did a god fearing country like the Netherlands justify its role in slavery? How tough was working at the plantations? Who committed the biggest mass murder in Dutch history?
The series was presented by Daphne Bunskoek and stand-up comedian Roué Verveer. Verveer's part adds a highly personal note; he looks for traces of his family history in his native country Surinam. Through archives, old yellow documents, old coffee- and sugar plantations, and even DNA research he comes face to face with distant relatives in a place somewhere in Africa.
SLAVERY JUNIOR
A separate series: "Slavery Junior" was made for children. The story of slavery is told through archive material, documentary- and drama excerpts. It is not only about slavery in the past but also about current slavery in countries like Bangladesh and Benin.
Along the series the Internet game "What a bargain" was developed: children design their own clothes and then travel the world to have them made. This way they learn under what conditions clothes are made these days.
AFTER SLAVERY
The series "After slavery" looks into the consequences of Holland's past in slavery, 150 years after slavery was abolished. Few people are aware of the shadows this dark past still cast over the presence. During three centuries Holland traded 550.000 Africans and made them slaves. The offspring of these slaves now live in Holland which raises questions about how we are to deal with our collective history.
LAND VAN AANKOMST (LAND OF ARRIVAL)
The three-part series "Land of arrival" (Land van Aankomst) was a historical project that shows how European communities experience modern immigration and how it has permanently changed Europe from the fifties until now. The first part shows how at first it was mostly a matter of keeping distance: what is alien does not tend to be immediately embraced; on the contrary it tends to be kept at a distance.
Part 2 focuses on the sometimes violent conflicts that arise, after avoidance and ignoring each other can no longer be maintained by either side. In the third part the programme makers show how – bypassing the worn out formulas about the multicultural society- Europe's immigrant communities slowly are starting to take shape.
IN DE SCHADUW VAN DE MAAN (IN THE SHADOWOF THE MOON)
"In the Shadow of the Moon" tells the true story of the first generation of immigrant workers, based on the stories of Turkish and Moroccan men in the autumn of their lives. About their dreams, illusions, and Dutch women in that strange country, the Netherlands, where everything was different. 'Staying a while to make a lot of money' turned out to be an illusion.
ZWART/WIT (BLACK AND WHITE)
The four-part documentary series "Zwart/Wit" (Black and white) looks back on the integration debate developments and the uprising of new political parties.
DE ZWARTE LIJST (THE BLACK LIST)
For several years NTR broadcast the music programme "The Black List"", on radio and more recently also on television. DJ's of Radio 6 dive into the music of their soul and jazz heroes. Their stories are told with often unique archive material. Listeners can vote for their favorite soul and jazz numbers.
The TV programme is stuffed with video clips and great stories out of the history of soul and jazz.
But there is also attention to recent discoveries like Allee Willis (Boogie Wonderland), The Trampps (Disco Inferno), trompettist Ibrahim Maalouf and the Amsterdams Afrobeat band Jungle by Night.
NIKS TE GEK (NOTHING TOO CRAZY)
In the programme "Nothing too crazy!" (Niks Te Gek) presenter Johan Overdevest helps people with mental
health problems to realise their dream. Johan has more of an assisting supporting role; the main character will have to take the initiative and organise for the dream to come true. For example Jo-Ann who is a sports fanatic and loves to go out on survival trips. Her wish is to spend a day in the army. Or the sisters Lucinda and Clarissa, who are working at an animal care farm in Drenthe. They look after rabbits, cows and horses. But what they really want is to work with wild animals. Together with the presenter they go to a zoo and feed the tigers and they assist in giving an elephant a pedicure.
KNOOPGALA
In "Knoopgala" presenter Paul de Leeuw follows seven artists with mental health problems. They are all musically gifted. Paul gets the best out of them in his own unique way. The series shows that people with mental health issues possess many more talents than initially is assumed. Each episode build up to a big surprise meeting with a nationally praised artist. It concludes with an invitation for the main character to perform at the annual Knoop Gala with him or her.
NAZIHA'S LENTE (NAZIHA'S SPRING-documentary)
Nine years ago, a Moroccan-Dutch woman and mother of ten named Naziha made a drastic decision. She no longer wished to spend hours at the police station after one of her sons had caused trouble, so she threw out her violent husband and took up the struggle to get her children back on the straight and narrow, with the help of a dozen social workers. In perfect Dutch she tells the story of how as a young girl she was married off to a man 30 years her senior, and how he turned her household into a "terrorist training camp." She speaks bitterly about this dark period, which has led to her sons' criminal behaviour. She wants her story to break the taboo on getting help. She has to compete with prejudices, but never backs down. Specially for her only daughter and youngest child, she wants to fight for a better life with free choices. But just as the tide seems to have turned, fate strikes hard, and the normal quiet life she dreams of looks further away than ever.
BROTHERHOOD 
Thirty unemployed youngsters in Rotterdam will have the chance to get back on track. They will get two months of job interview training, classes in social skills and how to play rugby. Discipline, camaraderie and respect, the basic principles of the rugby sport should give the guys a new start. Their perseverance is severely
tested, and not without reason. If they last the full eight weeks, there will be a job for them. In this three-part series we learn Mo, Rico, Adam, Mike and Sean. What brings them here and what motivates them? Will they manage to accomplish the whole process and will these eight weeks be enough to make a real change.
DANNY ZOEKT PROBLEMEN (DANNY IS LOOKING FOR PROBLEMS)
Reporter Danny Ghosen examines what it's like to live in the tensions of a problem area. In a seven-part series he goes to different areas in the Netherlands. To get as good an understanding the problems as possible, he stays for one week in the chosen area and he talks with the local people. They show him how to survive in these neighbourhoods and what should change. In this episode, Danny is in the provincial city of Oss, where the residents violently demonstrated against the arrival of a number of single men with an asylum status. The windows of the houses where these men were supposed to live were smashed and the whole neighbourhood was in turmoil. Both the Dutch and the Turkish and Moroccan neighbours are strongly opposed to the arrival of these men. What is the reason behind it?
SATUDARAH – ONE BLOOD
The motor club Satudarah, frequently in the news because of alleged criminal activities, is a secret world full of rituals and codes. 'Old-fashioned' ideals such as virility, brotherhood, loyalty, courage and spirituality are of the utmost importance.
The documentary shows how the new generation of leaders – Angelo, Olla, Mima and Bota – within a few years rebuild Satudarah from an unknown Dutch club into an international conglomerate. This development is not without problems.  Especially the expansion in Germany means war, betrayal and an eventual ban of the club in Germany. The documentary also gives insight into the dynamics of various members of Satudarah. Olla and his Moluccan roots; Barend, full member at the 'trailer park Department', who is in a continuous battle with justice; and Mickey who says he would give his life for the club, but ultimately is thrown out and ends up in prison.
KONINGSDAG (KING'S DAY- Fiction)
11-year-old Younes is selling his father's car parts at a lively street market. The day starts out festive, but when the young folk singer Kelvin and his menacing father arrive, the atmosphere deteriorates fast. A silent struggle develops between Younes and Kelvin, one that is not only waged between the boys, but also between their dominant fathers. As the day progresses in this park in Amsterdam, the two boys discover that even though they once seemed so different, their situations are actually the same.
THE CARRIBEAN NETWORK
In 2013 the "Carribean Network" was launched, that brings news, current affairs, and backgrounds on the six Carribean. The developments in the islands of the Kingdom of the Netherlands are monitored with a small network of local journalists. The network also follows the Antillean and Aruban community in the Netherlands, and the political decision-making process in The Hague as it affects the six islands and/or the Caribbean community in the Netherlands.
CARRIBEAN NETHERLANDS THREE YEARS ON
The three-part series "Caribbean Netherlands, three years on", gives a portrayal of the situation in Caribbean Netherlands three years after major changes it underwent from 10 October 2010. That day Netherlands Antilles ended and the islands became either independent countries (among others Curacao and Sint Maarten) within the kingdom or as special municipalities of the Netherlands (Bonaire, St Eustatius and Saba). What has the new political status brought the inhabitants?
LAYLA M  (FICTION)
18-year-old Layla, a Dutch girl with Moroccan roots, joins a group of radical Muslims. She encounters a world that nurtures her ideas initially, but finally confronts her with an impossible choice.
DANNY IN ARABISTAN 
'Danny in Arabistan' is a documentary series about the daily life of young people in the Arabic world, against the background of fierce conflicts and revolutions. In the series, presenter Danny Ghosen visits several countries in the Middle East. He wants to show what motivates and inspires young people, and he dives into a culture that often is considered strange. In this episode, Danny visits Tunisia, a country where one can order alcohol on a terrace and most girls don't wear head scarves. It seems to differ from other Arabic countries. But is it truly a modern country? And why is it that most IS fighters come from Tunisia? Danny investigates how free one really is in this North African country.
FAMILIE, GELOOF EN HOOP (FAMILY, RELIGION AND HOPE)
Family, Religion and Hope is a three-part series in which the homosexual Dutch Moroccans Nassiri, Souad, Mohamed and Abdellah frankly talk about their lives. Being homosexual and Moroccan is no longer a problem for them, but all three had to follow a difficult and often lonely path. The culture of shame and the social pressure to marry and have children are strong in Moroccan families. Episode 1 "The Family" investigates how this culture of shame makes it very difficult to come out of the closet. But Nassiri, Souad and Mohamed show that it is still possible to become happy and be themselves. They want be role models for other Moroccan gay, something they missed in their own youth.
THAT HAIR!
In "That Hair!" we get to know the 12–year-old girl Kaylee. When she was three years old she was adopted from Lesotho and ended up in a small village in Friesland. She is the only girl at school with afro hairdo. And that is annoying for her. Kaylee and her mother don't have a clue how to take care of afro hair. And there is nobody around to give a proper advice. Kaylee is tired of being the only one with troublesome hair. She and her mother decide to go look for someone who can help them.
100% HINDU
In The Netherlands live around 100.000 people with a Hindu background. In 100% Hindu presenter Narsingh Balwantsingh investigates how Hindus in The Netherlands deal with the the rules of their religion.
DE MOEDERS VAN HALAL (THE MOTHERS OF HALAL)
In the 'Mamas of Halal' the Muslim sisters Esma, Jihad and Hajar Alariachi make a return to TV after 10 years.10 years ago they made their illustrious programmes as the Sisters of Halal. Now, 10 years later, they have founded families and are mothers of children. How do they look back on different topics that they had tackled 10 years ago? The first episode is about "education". The sisters interview their own parents, education specialists, the divorced football player Khalid Boularouz. And they look back on the tragic airplane crash of Hajar and Jihad in 2009, when a plane of Turkish Airlines crashed just before landing at Schiphol Airport.
NEW NEIGHBOURS: ROOM WITH A VIEW
The New Neighbours series is a coproduction of the Eurovision Intercultural and Diversity Group. Each episode tells the story of two protagonists: "new" and "old" neighbours. It's about people searching and struggling for a new home. It's about the obstacles they face to become part of a local community. In the Dutch episode: Jose Kosterman has lived in her paradise in Almere in the Netherlands for 15 years. Suddenly, the local government tells her that 21 single male Syrian refugees will become her new neighbours. That news scares the hell out of her. Belal Ismaiel is one of the new neighbours. He left Syria because he didn't want to serve in the Army of Assad. This former law student attempts to build a life for himself in the Netherlands while he is suffering from the pain of missing his family. For six months, the camera follows the new neighbours Jose and Belal.
HOEZO, HALFBLOED (WHY, HALF-BREED?)
"Why, half-breed? Is a two part series about being of mixed blood.
Nadya Sewradj has a Dutch mother and a Hindustani father. So she is mixed or half-breed. She does not feel Dutch bit neither Hindustani. "Why, half-breed?" is the personal quest of Nadya to find out who she is and where she belongs.
MY FATHER'S CHOICE
In 'My father's choice" documentary maker Yan Ting Yuen tells the small story of her father and her family against the background of the big history of China and the Chinese diaspora. Her father lived three different lives. In Dapeng China, in the British colony Hongkong and in The Netherlands. Were this his own choices or was he merely brought around in the maelstrom of history.
IEDEREEN VERLICHT (EVERYONE IS ENLIGHTENED)
In "Everyone is Enlightened" presenter Narsingh Balwantsingh travels in his tuk tuk through The Netherlands. He searches and meets people who one way or the other are striving for personal enlightening. That can be a more spiritual or a more sustainable  way of living. What motivates these people and how have they come to their new senses?